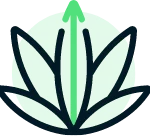 Website Rank Really High
Rank Really High is a rapidly growing B2B software and marketing company with market-leading cloud-based solutions in the cannabis space. This is a rare opportunity to join a business on the cutting edge of cannabis marketing and e-commerce which offers enormous growth potential for your career.  Our company culture is one of inclusivity, positivity and all-hands on deck teamwork to be an innovative, valuable partner in an emerging and dynamic industry.
RRH Account Manager Job Brief:  
We are looking for an experienced Account Manager to create long-term, trusting relationships with our clients. The Account Manager's role is to oversee a portfolio of assigned clients, review key digital marketing metrics monthly, make recommendations to align business goals with the digital platform and work with the internal team members to respond to client requests in a timely fashion.
Location: MN, MA.  Remote work for the right candidate.
Account Manager key responsibilities include:
Operating as the lead point of contact for all matters specific to your assigned accounts

Building and maintaining strong customer relationships

Overseeing customer account management, including 

leading monthly digital performance review meetings with clients

working with the internal team to complete client requests in a timely manner

making recommendations to improve performance and respond to changing market conditions.
Account management responsibilities include developing strong relationships with clients, connecting with key stakeholders to review digital marketing metrics using Google Analytics and Looker (formerly Google) Data Studio reports.  Account Managers also answer client queries and identify new business opportunities among existing customers. In this role, you will liaise with cross-functional internal teams (including Sales, Client Services, Web Design, Onboarding and Product Development departments) to improve the entire customer experience. 
If you have a flair for client communication and care for the success of businesses we partner with, we'd like to meet you. You are an ideal candidate for this role if you have strong relationship development, communication and organizational skills.  In addition, we'd like you to have at least two years in digital marketing, be able to analyze digital marketing data utilizing Google Analytics and Looker (formerly Google) Data Studio reports, make recommendations based on business goals and the services we provide, and work positively and effectively with the internal team to manage client requests in a timely manner.
Responsibilities
Serve as the lead point of contact for all customer account management matters

Build and maintain strong, long-lasting client relationships

Develop trusted advisor relationships with key accounts, customer stakeholders and executive sponsors

Ensure the timely and successful delivery of our solutions according to customer needs and objectives

Clearly communicate the progress of monthly/quarterly initiatives to internal and external stakeholders

Reports on account status to the team and escalate concerns to your director

Assist with challenging client requests or issue escalations as needed
Requirements and skills
Proven work experience as a Marketing Account Manager, Marketing Client Services Representative, Digital Marketing Specialist or relevant role

Demonstrable ability to communicate, present and influence key stakeholders at all levels of an organization, including executive and C-level

Solid experience with CRM software (e.g. Salesforce, HubSpot, Click Up), WordPress, Elementor and the Google Suite

Experience delivering client-focused solutions to customer needs

Proven ability to juggle multiple account management projects at a time, while maintaining sharp attention to detail

Excellent listening, and presentation abilities

Strong verbal and written communication skills

BA/BS degree