Cookies Dispensary
Ecommerce

Websites
Build your Cookies Cannabis Dispensary a sweet Native ecommerce website on Dutchie Plus, Treez or Jane with Rank Really High. Our ecommerce-first website feature insane product and menu SEO, modular inventory sections, integrated specials, and amazing designs. Your Cookies' Dispensary will sit on a Cookies.co subdomain maximizing your domain authority and rankings.
Rank Really High's Cookies Website Packages start at $999/mo.*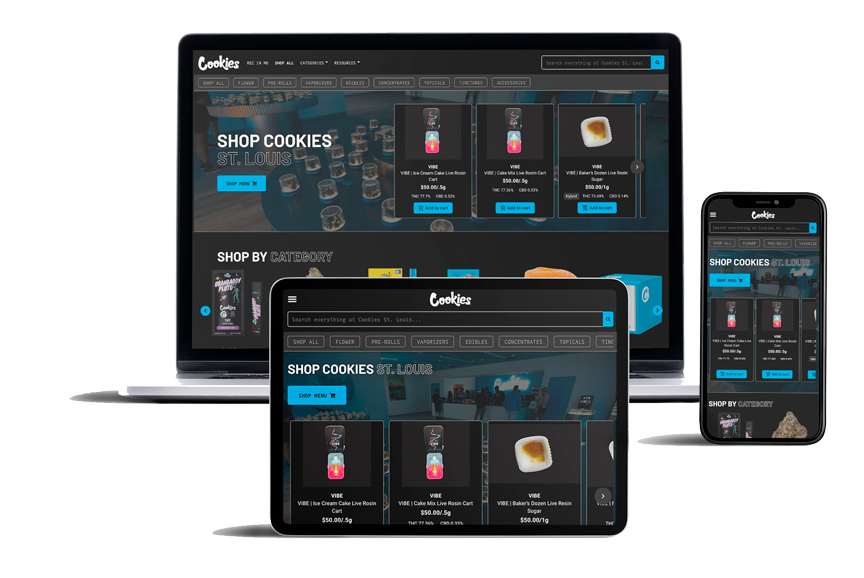 Build Your Cookies Dispensary Ecommerce Website with Rank Really High
Rank Really High has BUILT MORE
Cookies

Dispensary Ecommerce Websites Than ANYONE ELSE.
Rank Really High provides Cookies Corporate approved Cannabis Dispensary ecommerce websites to Cookies retailers that boast the tools, technology, and support needed to elevate their operations to the next level. This involves discussing strategies for streamlining the website's presence, ensuring consistent branding, and enhancing user navigation throughout the entire Cookies Cannabis ecosystem.
Cookies' customers expect a seamless ecommerce experience between all cookies touch points, including Cookies.co, CBD, THCA, Seeds, and especially with their retailer websites. Enabling effortless navigation and Search Engine Optimization between the entire Cookies' retail network, while being confident they are engaging with a trusted and familiar brand at every touchpoint.

Establish the new standard for Cookies cannabis digital retail by aligning our digital spaces and optimizing internal processes, by driving exponential growth, and creating lasting customer relationships.
Rank Really High / Cookies Ecommerce Websites Feature:
Your

Game-Changing Genetics

, paired with our

Industry leading Experience

.

Branding standards remain intact across all locations. Updates would be approved at Cookies Corporate level.

Individual location customizations are structured with branding guidelines in mind. 

Bring more people together with a seamless digital experience.

Cookies.co subdomains to reenforce authenticity and control.


Seamless Updates:
Branding updates

Consumer experience

Inventory and menu updates
Cookies Approved Starter Pack:
Ensures rapid website onboarding and launches

Makes sure corporate priorities are presented prominently

Brand consistency
Future Proofing:
Global updates

Global improvements
Create A Cannabis ecommerce Conversion Monster
Our Cookies Ecommerce
Website Packages
Are designed to kick ass right out of the box but are purpose-built to be accessible to digital marketers of all expertise levels. Our simply short code engine and the flexibility of a WordPress-based stack makes customizing and further enhancing your cannabis ecommerce website easy.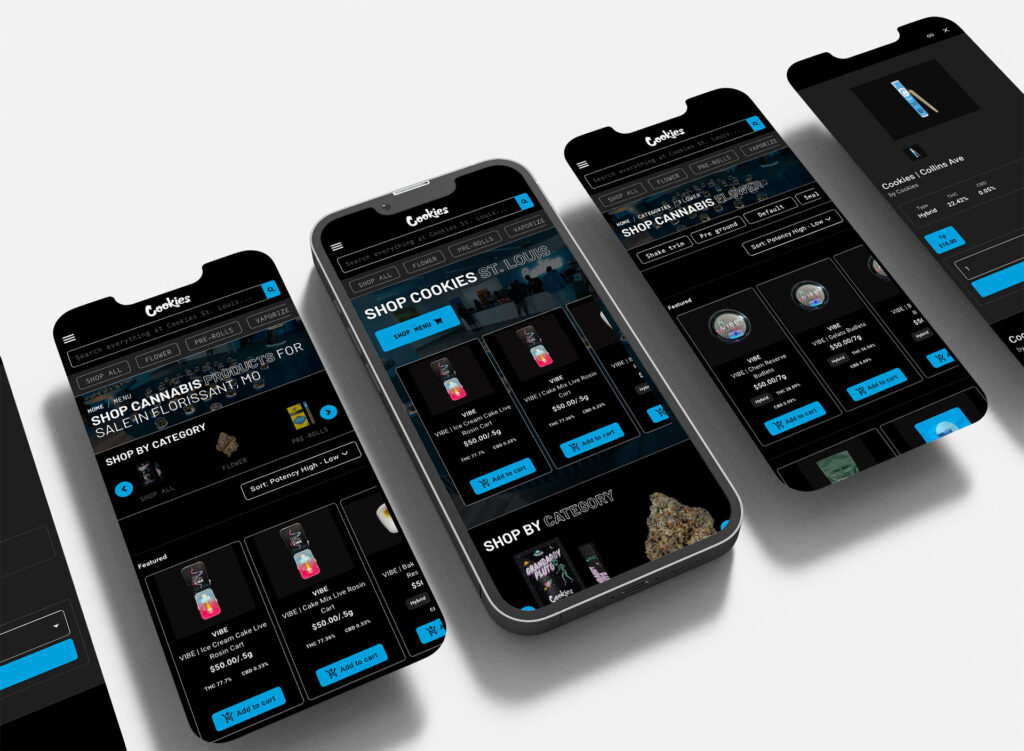 SOIL
WEBSITE PACKAGE
Excellent for dispensaries with in-house web team
Price Includes 1st Menu integration.
Dedicated Account Manager
SEED
WEBSITE PACKAGE
Great tailored solution for your dispensary
Price Includes 1st Menu integration.
Dedicated Account Manager
PLANT
WEBSITE PACKAGE
Perfect all-in-one solution for dispensaries
Price Includes 1st Menu integration.
Dedicated Account Manager
Prices above includes first Jane or Dutchie Menu integration. Additional locations/menus can be added for $299/mo/location.
*Soil Onboarding Fee is $2,000 one time.
** Seed Onboarding Fee is $3,000 one time.
*** Plant Onboarding Fee is $4,000 one time.
**** Plant SEM is $500/mo/location after first location.